(The following is a sampling of work presented during the Show & Share and Presentation portions of our monthly meetings over the course of 2016.  To see what we're up to more recently, please visit us at summitscribes.blogspot.com.)

A few examples of work done in Cecelia's class for Show & Share….
Karen W. is a certified Zentangle Instructor.  She showed us new and funky ways to doodle!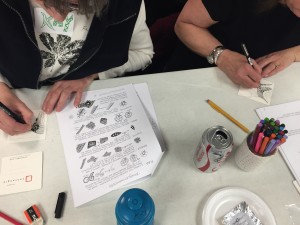 ---

Some pics from our Show & Share time…..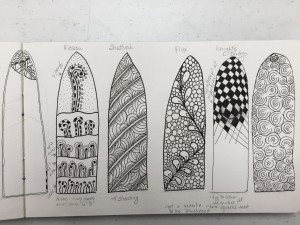 Some examples Cheryl brought for her presentation of White on Black
---

Samples from our Show & Share at our March 2016 meeting
---

---

Kathy presented and reviewed Roman Uncials for our evening demonstration.  She brought several handouts and original examples of work she's done in Uncial.
---

From our meeting on June 14, 2016
We did a Round Robin featuring modern uses of Uncial
---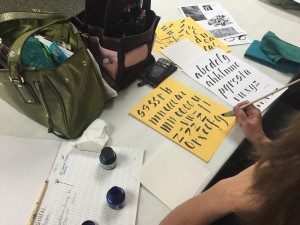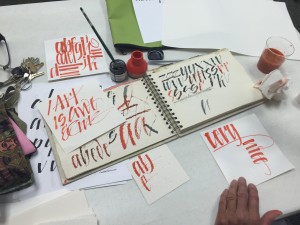 ---

(Our Annual Picnic was at Cheryl's house)
---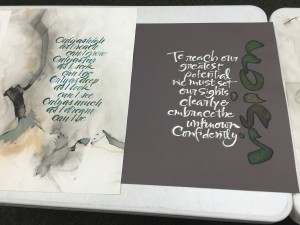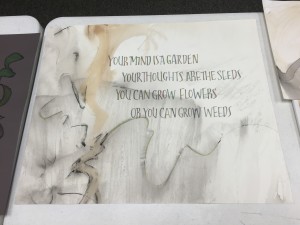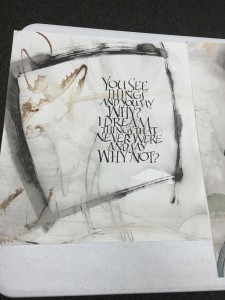 Kim Hetherington taught us how to cut sheets of paper into sections, fold a front and back cover, and stitch them together to create our own book!  We worked for 2 hours straight and beat the 6th grade class in doing so!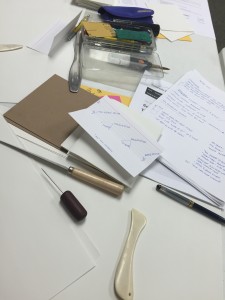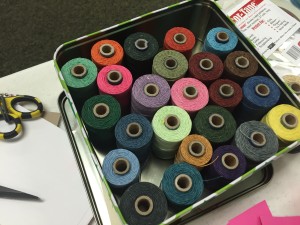 ---

For our October meeting, we had a Round Robin card making feast!  Sherry had us making envelopes form a variety of templates and decorating them at a second table.  Leslie used small orange ink pads and black microns to make the cutest pumpkins for her card and Candy had us tearing strips of paper and staying the edges with ink pads to create bandages for our BOO! card complete with google eyes!  Carole was had packets all ready for us to dive in to create her snow scene card with a bit of watercolor and a stamped image of black trees.  Everyone loved the variety and ability to take several things home.
---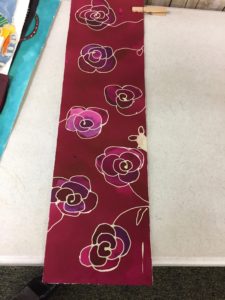 ---

Our annual Christmas Party was held at Leslie's where we had our traditional card exchange!  Leslie carefully brought her collection of past Christmas cards to light and had them handsomely displayed around the entrance and dining area.  Thank you, Leslie!